How Does More Productivity, Decreased Risk, and Controlled IT Costs Sound to You?
It doesn't matter how big or small your business is, technology is not only a necessity for you, but it's also a tool to set yourself apart from your competition. Yet it can also be complicated to execute, is rapidly and constantly evolving, and difficult to scale. Technology can power your business to achieve more than ever, but to get the results you're after, you also need access to expertise, experience, the capacity to execute at scale, and the talent and resources to operate, maintain, secure, repair, and respond to issues as they arise.
Enter Managed Services. While there are many types of managed services—technically defined as the practice of outsourcing business administration and management responsibilities to a third party—managed IT services is the most common. Managed IT Services originated in the 90's as a solution for Break/Fix IT, but it has now evolved into a critical solution for businesses—especially small and medium businesses (SMBs) —gain a critical edge with respects to embracing, adopting, and managing new technology.
In 2022, the global managed services market was valued at almost 279 billion US dollars and is expected to surpass 400 billion USD by 2026. Much of this demand can be attributed to SMBs, as managed services hit a sweet spot for businesses who need to be able to evolve their technology securely, but don't have a large IT budget or in-house IT team. By relying entirely on in-house IT talent, your business often gets stuck in a reactive mode, with teams that are struggling to keep up and systems that aren't integrated—so that rather than empower your employees to work more efficiently, they may actually be hindering them instead. And in case you've been thinking your business is too small to be a target for cybersecurity risk, it's time to reconsider. Cybercrime is up 600% since the COVID-19 pandemic, and according to Accenture's Cost of Cybercrime study, 43% of attacks are targeted at small businesses, but only 14% are prepared to defend themselves.
Thankfully, the biggest value managed services have to offer SMBs is the ability to level up your digital transformation and compete with even larger companies, improved user productivity, increased security and decreased risk, and better controlled costs.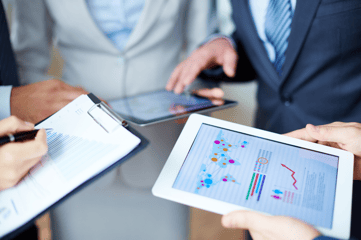 Improved User Experience = Less Frustration, More Productivity
You're intimately aware that your people are your most valuable resource, but are you aware of just how much the technology they use to do their jobs impacts their productivity, engagement, and satisfaction? A study by Unys revealed that employees who are working with legacy (which is another way to say outdated) technology are 75% more likely to be frustrated than their peers who work for other companies that embrace new technology. As a result, these "legacy" technology workers are 136% more likely to feel less productive and are 450% more likely to quit.
Outdated technology and systems that don't integrate well together can also create or deepen silos across your organization. For example, if your accounting software doesn't speak with or share data with your sales software, or integrate with your website effectively, you may be unable to get a complete picture of who your ideal customers are, or how to market to them to deepen your relationship.
When you work with a qualified Managed Services Provider (MSP), one of the biggest benefits is access to their deep bench of expertise and knowledge across technology and business. A great MSP brings process improvement knowledge to your table, and helps you look at how you can effectively use technology to solve problems, streamline operations, automate tasks to free up time for priorities, and improve the experience for your employees—so they're empowered by technology, not hindered by it, less frustrated, more engaged, and happy in their jobs.
Free Up Your Internal IT Resources
The same benefits can also apply to your internal IT team. The IT departments at many organizations, especially SMBs, are short-staffed and overburdened—which means they're stuck reacting to issues and problems, constantly fighting fires. Being stuck in reactivity means they're not effectively able to advance your goals and business priorities, leaving you in danger of falling behind your competition. Technology is only expanding, not decreasing. Because the sheer amount of work is too much for these teams to manage on their own, what happens is businesses fall behind in their modern tech policies and digital framework.