No matter the size of the local government or municipality you serve, one thing seems to be universally true: you're consistently asked to do more with less. Increase efficiencies in the face of budget cuts, grow city services—and quality of services—without spending more, and enhance security, while spending less. This is true no matter what position or department you're in, and no matter the size of your IT department.
It's precisely for this reason that local governments can benefit so widely from a quality Managed IT Services, or MSP, partner.
Technology can, after all, help your staff gain productivity, increase the effectiveness of your collaboration, improve efficiencies, and create a better-quality experience for staff and citizens alike.
But outdated technology can also quickly hinder all of these things, increasing costs, and creating ever-widening security gaps and vulnerabilities.
Common in business, outsourcing IT to a MSP is an increasingly beneficial option to local and state governments as well. When you partner with an MSP, you bring in a deep bench of expertise to your team, tapping into their collective insight, knowledge, and experience to design a better technology and security strategy for your government organization.
Read on for the top 5 benefits of working with a MSP.
1. Help Transitioning to New Technology and Platforms, including Microsoft 365
Many times, we encounter local governments and municipalities who are working with outdated technologies configured on-premises and who need help upgrading so they can continue to perform their work. In a recent project, a local municipality was about to transition to new software but knew their current technology setup wasn't going to support it.
We were able to help them transition to Microsoft 365, which not only enabled them to support this new software, but also brought them up to date with email, collaboration tools, file sharing, storage, and more. These tools helped them improve efficiency and productivity and reduced a great deal of headaches among their staff.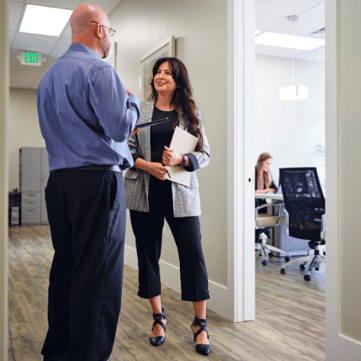 2. Security
Cybersecurity protocols are as crucial for state and local governments and municipalities as they are for modern businesses, yet it's easy to push these off. Modern cybersecurity is sophisticated and extensive, and as you well know, most governments are already short-staffed and inundated simply with daily tasks as it is.
But strong security protocols shouldn't be left to chance. Local governments are increasingly attractive to cyber thieves and bad actors, especially as they are so often underprepared. In fact, in 2020, research performed by Barracuda Networks indicated that 44% of global ransomware attacks targeted municipalities (Government Tech).
One of the key reasons? As a government organization, you hold valuable databases of citizen information including drivers' license numbers, Social Security numbers, and financial information. Security gaps not only leave your citizens' information and identities vulnerable, but hackers may be after something else other than financial reward: they may seek to disrupt life and processes and wreak havoc that way (Standford).
Even with strong procedures in place, cybersecurity risks are out there. Naturally, incidents happen (sometimes on a daily basis). Governments need a proven way to mitigate and respond to those issues when they occur. By partnering with an MSP, your organization can benefit from robust risk management procedures that bring peace of mind.
Many MSPs also include identity access management as a service which can help reduce the likelihood of unauthorized access to data. The MSP validates users' credentials for accessing various types of data and even verifies whether access is still needed as employees change roles or leave the company. MSPs will also notify their client of access issues well before a government org's small, multi-tasking IT department might detect them.
Some typical security services your MSP should be able to provide include:
Developing and supporting sophisticated security policies

Training employees on security policies and how to identify common cybersecurity attacks, such as common or new phishing schemes

Firewall set-up and policy enforcement
Managing security endpoints

Intrusion detection

Web filtering