Most Technical folks understand the sea of IT acronyms above, but if you're leading a small company, you might not have the years of technical training under your belt, and, like many presidents and CEOs, you might be a bit confused. That's where we come in.
If you're looking to build a sound business strategy, technology will be at the heart of it; and any good Managed Service Provider (MSP) or IT support partner should be right there with you. To get the most value out of your MSP relationship, you need to engage with them regularly; while you're evaluating tools, software, and technology. Every tier of the "-aaS" hierarchy can offer measurable benefits that your small businesses might desperately need, but these benefits aren't self-evident.
Most MSPs don't offer IaaS, PaaS, or SaaS management and monitoring services alone—they offer a mixture of all services, usually in tiered offerings that provide increased service levels. When business leaders understand the acronyms that make up MSP service offerings, you better understand the value you're getting. You know the importance your MSP is providing.
SMBs are Often Starting Out On-Premises (Sort of)
On-premises will be the starting point (in a loose sense that we'll explain in a moment) for most SMBs. Technically, an on-premises deployment means that:
• There's an in-house IT department

• The IT department manages a data center, server room, or server closet
• They own all of the hardware in their server closet and all the
machines connected to it.
• The server closet is located on property owned or leased by the
business.
• IT performs all maintenance and upgrades themselves.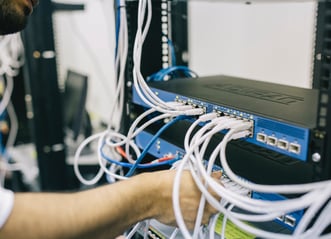 As it turns out, most companies don't have a genuinely on-premises IT implementation anymore. Even among small businesses, 80% of companies with 1-99 employees now use software as a service (SaaS).
With that said, there's a difference between having a few SaaS applications and having an overall cloud strategy. Businesses might have a few SaaS applications—but they may still be hamstrung by on-premises applications that could benefit from an IaaS deployment. Companies might have a few SaaS applications—but they may be wrong-sized for the company, or the company might be using consumer-grade SaaS technology for enterprise-grade tasks.
In short, even though you may be in the cloud already, a MSP will partner with you and likely show immediate value by recognizing and correcting early mistakes and help fill in the gaps in your overall cloud strategy.
IaaS—the First Steppingstone Into the Cloud
If you're starting to investigate the cloud, you'll probably start by looking into IaaS, primarily if you rely on older systems of record that resist software updates and patches. Even if you can't buy a SaaS version of your legacy software, you can still lift and shift these applications into the cloud using an IaaS approach.
For example, many of the clients we work with at Northriver are in the construction industry, using Viewpoint, an essential business software application. Viewpoint users always complain that the application hogs a lot of memory, storage, and compute power, which means that it either runs slowly or slows down the rest of the company. We often hear it's hard to extend Viewpoint functionality to users in remote sites or those who use mobile applications.
People access Viewpoint from multiple locations, such as branch offices and construction sites. They need Viewpoint to run as fast as possible —mainly because they may be using Viewpoint to deliver mission-critical items such as payroll. For context, construction companies pay their employees as often as once a week, which means that there is no room for downtime or unexpected application slowdowns. If payroll is delayed, then the workforce will simply put down the tools and move on to the next job at a different company.
One way to accomplish the necessary performance is to build out the server room, but small companies may not have the space or the budget to acquire the required hardware. Therefore, these and other companies are seeking out infrastructure as a service (IaaS) offering.
IaaS functions thanks to the interaction of four different technologies—networking, storage, servers, and virtualization. Using these technologies, IaaS providers can offer a level of uptime, reliability, and speed that small businesses can't necessarily replicate on their premises. Uptime means that applications in an IaaS environment don't unexpectedly crash, leaving applications to function as intended, and speed means that there are no unexpected slowdowns that can make applications frustrating or difficult to use. Uptime and reliability are most important, but speed can be the difference between making payroll and not.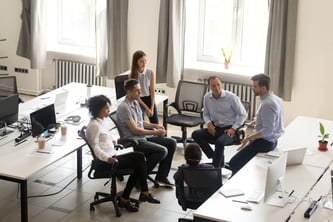 How can IaaS guarantee these critical performance metrics?
Under the IaaS model, service providers give businesses access to servers, storage, networking, and a hypervisor—everything they'd be able to access in their server room at the office, but with several advantages. The first advantage is scalability. Applications like Viewpoint often need more hardware to support them than a small business can physically store. With IaaS, however, all of the hardware you need is in a massive data center somewhere else, and adding a new server means clicking a button.